AI NEEDS YOUR HELP, PLEASE! :O
June 5th, 2009 (04:11 am)

PLEASE HELP ME CHOOSE A CELLPHONE! :O

My Pink Sony Ericsson W580i cell phone died! It's a cute phone but it didn't even last me a year! I need a new cell phone ASAP! I'm still in a 2 year contract with no internet! I have AT&T, so what I was thinking about doing was finding a replacement unlocked phone with no contract and just slipping my simcard in.
Now, the current lifestyle I lead is very very on the go. So I need a reliable cellphone/smartphone that has all the basic essentials + more! I'm the type of person that is a heavy cell phone user and rely on my cell phone alot. I text/call alot as well as use the phone for media/Camera/organizer purposes. I would really like for It to be cute because I am a girlie girl and for it to have a place where I can attach phone charms (BECAUSE I LOVE LOVE PHONECHARMS) but Im willing to go with out that if I have to.
I've been searching for a good cellphone/smartphone for the last few months and I've narrowed it down to three.


Blackberry Pearl OR Blackberry Curve

The BB Pearl has a place for phone charm. It does not have a full on QWERTY Keyboard but has two letters in one button. 2MegaPixel camera.
The BB Curve has no place for a phone charm. It does however have a full QWERTY Keyboard! 2Megapixel Camera.
Both blackberries have good organization and extra features.

OR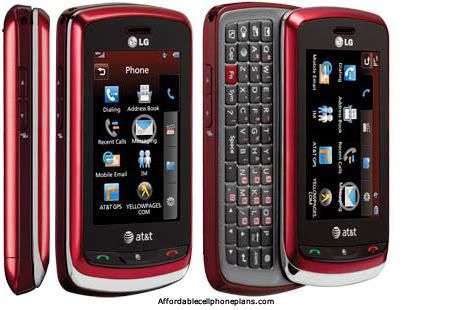 LG Xenon

The LG Xenon has a touch screen and you can slide up to reveal a full QWERTY Keyboard. It has a place for a phone charm, too. If you don't want to use the QWERTY Keyboard on the touch screen a virtual keyboard will come up but its the regular 3 letters in one button type of keyboard. There are endless ways to customize the phone! They have widgets/apps you can move around and tons of ways to get around the phone with the touch screen. Also a 2Megapixel Camera.
Here's a commercial on the phone!
Here is a review on the phone!
Anyway with those three phones I can not choose at all. I would like to know your opinions as to which phone you think would be best suited for my kind of lifestyle & Cuteness demands! I would greatly appreciate all the help I can get! With your help I can finally make a choice and order it asap, since I'd like to have it before Anext Convention(June12-14).
This way I can finally rest and not have cellphone nightmares. Ridiculous, I know but I can't sleep because of it! I am so serious. DX

PLEASE PLEASE HELP!!!!! ='(